Between the Impossible Burger, Beyond Burger, Lightlife Burger, and Trader Joe's soon-to-be-released Protein Patties, it's getting hard to keep up with all the options entering the vegan food space. But fire up the grill, because grocery stores across the country are making room for yet another choice—and this one is from the most massive company yet.
Nestlé-owned brand Sweet Earth Foods just debuted its latest product: the Awesome Burger. Like its competition, it's said to have the same taste and texture as real beef. And because it's made up of mostly yellow pea protein, each patty contains a whopping 26 grams of protein—more so than both the Beyond Burger and Impossible Burger, which contain 20 grams and 19 grams, respectively.
"The Sweet Earth Awesome Burger has a delicious, grilled beefy flavor, great texture, and juiciness, with the added benefit of plant-based fiber and protein," said Kelly Swette, CEO of Sweet Earth Foods, in a press release. "We've been making delicious plant-based proteins for more than eight years, so the Awesome Burger is a natural evolution of our work in this space. We're excited for people to find out why we call it Awesome!"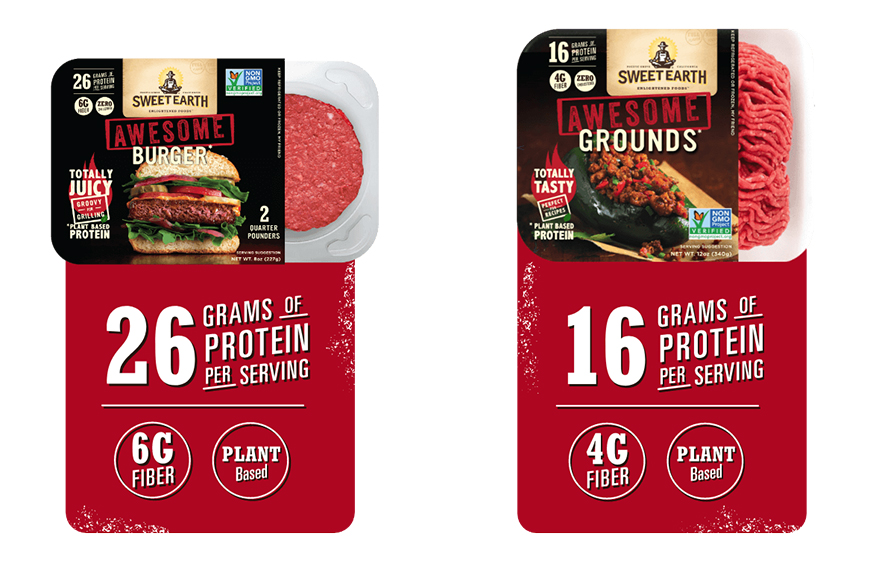 It's not just a burger the brand is releasing, either. Sweet Earth Foods is also debuting Awesome Grounds—a product similar to ground beef that can be used when making vegan meatballs, tacos, lasagna, and more. With that, you'll get 16 grams of plant-based protein per serving.
The Awesome Burger and Grounds will start showing up this week at grocery stores across the United States, including HyVee, Ralphs, Fred Meyer, Safeway, and Stop & Shop. Then, there will be even more retailers coming on board in the weeks to come. To find out where you can snag it near you, keep your eyes on this list. I don't know about you, but I'm already planning my next grill out.