Stocking your fridge with plant-based milks can be expensive. While there's an endless amount of options available, using oat, almond, or hemp milk in your cereal and lattes every day adds up. But what if you could make your own at home in 30 seconds, no mess included?
Almond Cow's plant-based milk maker is making waves around the vegan community for being able to turn any nut, seed, or grain into a creamy mylk in a flash. And all you need is 1/2 to 1 cup of soaked raw ingredients to get up to 6 cups of wholesome plant milk that's free of the fillers, thickeners, and artificial flavors often found in store-bought options. Another perk? Due to the machine using a multi-stage cold blending process opposed to heat, it doesn't lose its nutrients.
So, here's how it works. First, you put your nuts, seeds, or grains into the machine and add any garnishes you want, like dates or maple syrup for sweetness. After attaching the filter cup and pouring in your water, you can give your mylk some flavor with a pinch of salt and vanilla. To finish up, simply press the cow button and you'll have a batch of mylk to use in 30 seconds.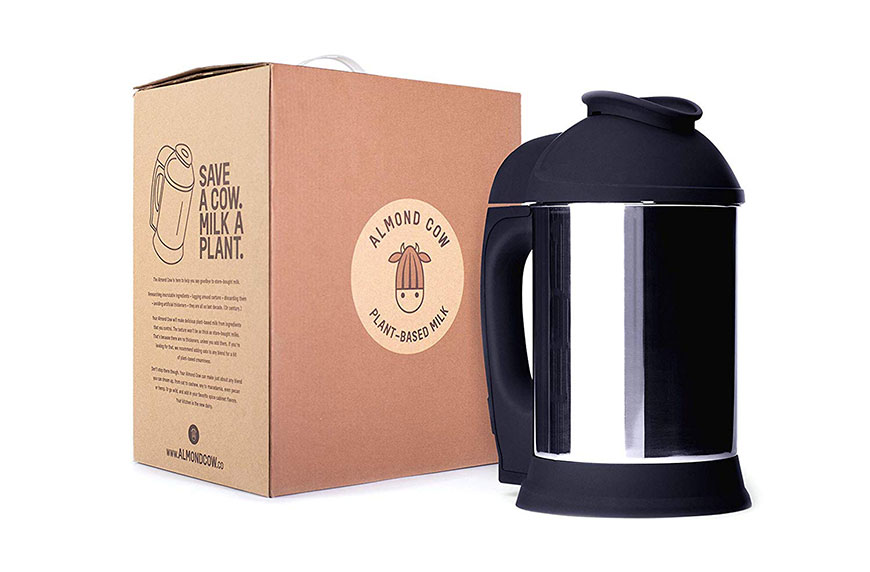 Not only is making your own plant-based milk healthier and more affordable—it also benefits the planet, as it helps prevent packaging waste. In fact, the company has already helped keep more than 200,000 single-use containers out of landfills and the ocean. Your leftover pulp doesn't go to waste, either. The website has multiple recipe ideas that incorporates it, from guacamole to desserts.
Right now, the $195 machine is available for pre-order and is expected to start shipping in September. Until then, just keep on dreaming about all those frothy almond milk lattes to come.