There's nothing like a deluxe veggie burger during a backyard barbecue, and Dr. Praeger's—the company that's known for its clean veggie-packed options—is stepping up its game with the debut of a new "bleeding" patty.
Similar to the Beyond Burger, Impossible Burger, and Lightlife Burger, Dr. Praeger's "Perfect Burger" is a juicy beef alternative that tastes like meat and bleeds like meat. The biggest difference between this option and its competitors is that it's basically an amped-up veggie burger with a meaty twist. According to a press release, it's infused with four different kinds of vegetables: sweet potato, butternut squash, beets, and carrots.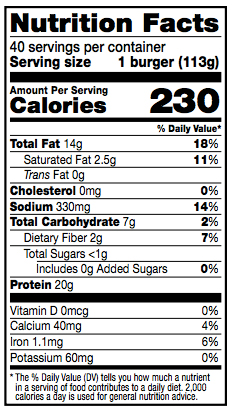 Aside from its impressive ingredients, the Perfect Burger is also soy-free, loaded with 20 grams of non-GMO plant protein, completely vegan, and "contains 15% less sodium and 22% less fat per serving than the leading meat-y veggie burger." Yep, they went there.
"The meat-alternative burger market lacks a tasty, vegan burger that contains a short and simple ingredient list," said Larry Praeger, CEO of Dr. Praeger's. "The Perfect Burger provides all the flavor you want from a traditional beef burger, but with clean plant-based protein and ingredients you can taste with each flavorful bite."
So, how short is the ingredient list? Crazy-short. The website's nutrition info says you'll only find 12 ingredients in the Perfect Burger: hydrated pea protein blend (water, pea protein), sunflower oil, beet, natural flavors, sweet potato puree, butternut squash puree, carrot puree, methyl cellulose, oat fiber, fruit and vegetable juice for color, sea salt, onion powder.
If you're ready to take a bite, same. And you don't even have to wait that long. The Perfect Burger is shipping out to foodservice clients starting this week, and by the end of the year, it will be available at 1,000 restaurants nationwide. While you won't be able to purchase it in grocery stores just yet, that's the plan. For now, you'll have to stick to your other grill staples.