If you're thinking about going more plant-based, you might be asking yourself one thing: What do vegans eat for breakfast? Standard breakfast foods revolve around eggs, meat, and dairy, so it's hard to imagine a world where those beloved staples are free of any animal products. Don't you worry, though—it's totally possible, and the vegan versions are just as good…if not better.
It doesn't take long to realize most breakfast foods can easily be veganized. Eggs can be swapped for tofu, pancakes and waffles can be made without milk and eggs, and you can transform vegetables info mouth-watering bacon. Yes, really. Basically, there's no reason to give up your favorite morning traditions when you have these healthy options on hand.
1. Scrambled Eggs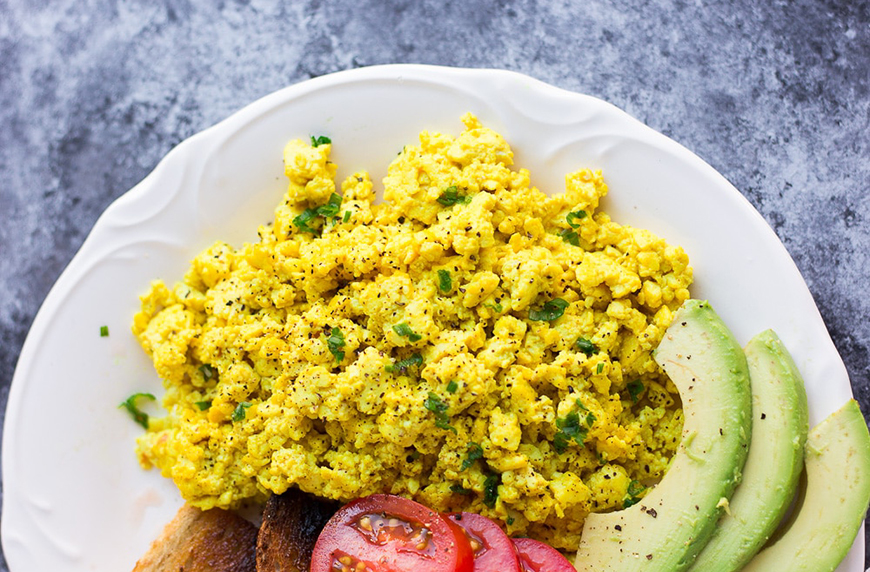 I absolutely loved scrambled eggs before going vegan. Other eggs I could do without, but scrambled? They were my thing. I thought my days of eating them were over, but then I discovered the tofu scramble, which simply requires crumbling some extra firm tofu, sautéing it, and seasoning it to perfection.
Try It: The Best Tofu Scramble
2. Pancakes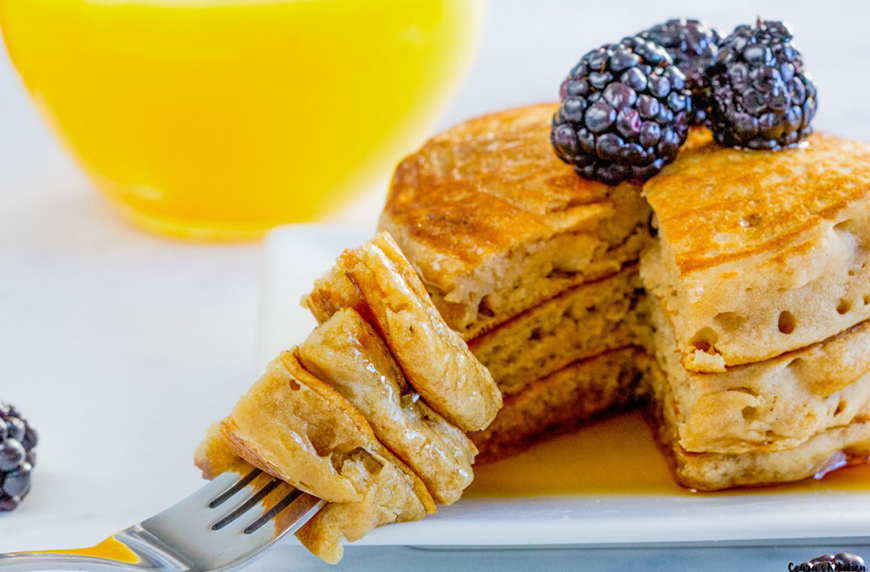 Spoiler alert: Pancakes don't need eggs! (Shocking, I know.) They taste the same without them. To make the fluffy, airy pancakes you grew up with, the secret is adding some baking powder. Feed them to your family and they'll never believe they're 100% cruelty-free.
Try It: Fluffy Vegan Pancakes
3. Bacon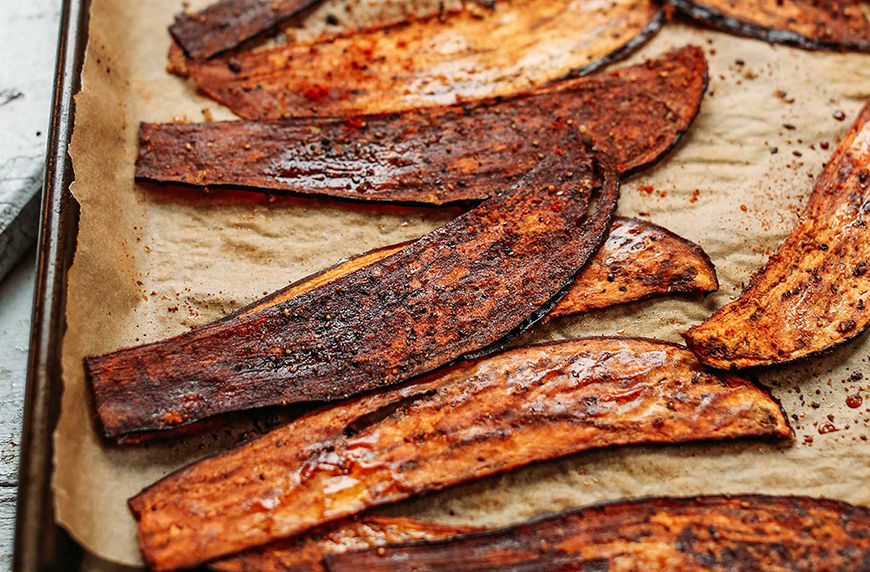 If you still want to enjoy the taste of bacon without harming any piggies, you'll really love eggplant bacon. Made with sliced eggplant and a savory marinade, you'll have a batch ready to be eaten in only 20 to 30 minutes.
Try It: Crispy Eggplant Bacon
4. Omelets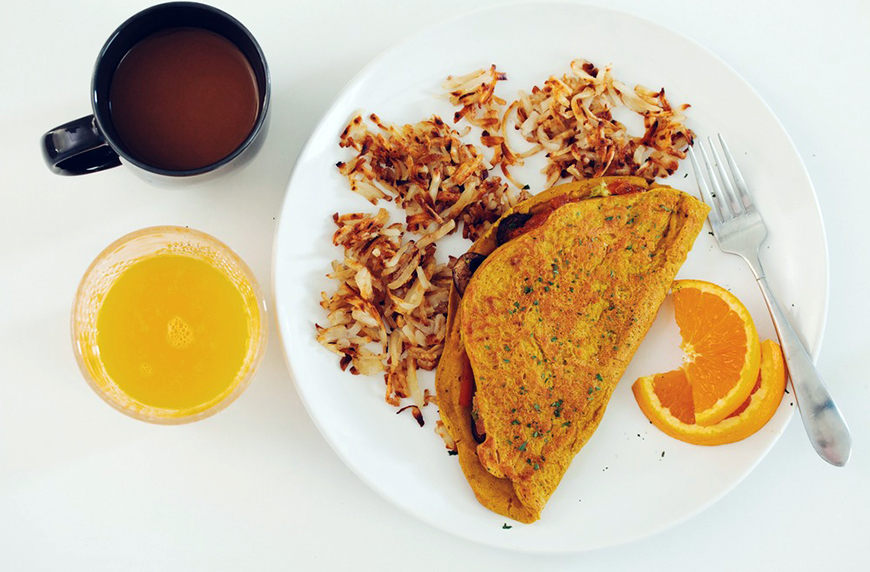 Omelets might seem out of the question, but not if you're creative. You can actually make a tasty omelet without eggs with tofu and chickpea flour. After cooking the batter like you would a normal omelet (just a little longer), fill it with a bunch of veggies—like meaty mushrooms!—and some vegan cheese. You'll be left with a breakfast you can feel good about.
Try It: Vegan Omelet
5. French Toast
Another breakfast food that seems like it would be impossible to veganize is French toast. It is dipped in eggs, after all. But by dipping the bread in a mix of non-dairy milk and chickpea flour instead, you're still left with a final result that's fluffy, golden brown, and begging to be eaten.
Try It: Vegan French Toast
6. Breakfast Sandwich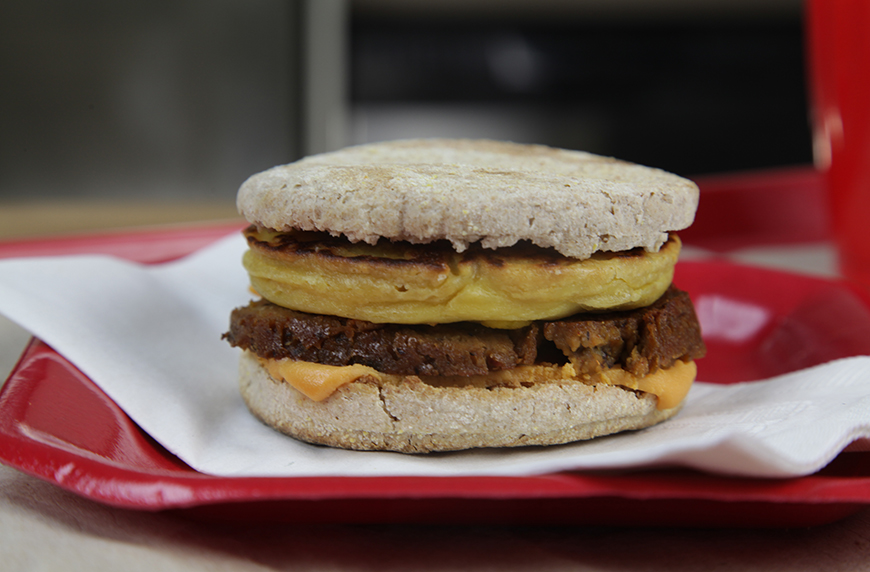 McDonald's has nothin' on this vegan breakfast sandwich. Take your carb of choice (whether that's an English muffin, biscuit, or bagel) and pile on some vegan meat, a slice of vegan cheese, and a homemade egg made from tofu. After taking your first bite, you'll never miss the greasy fast food version ever again.
Try It: Vegan Sausage Egg McMuffin
7. Breakfast Burrito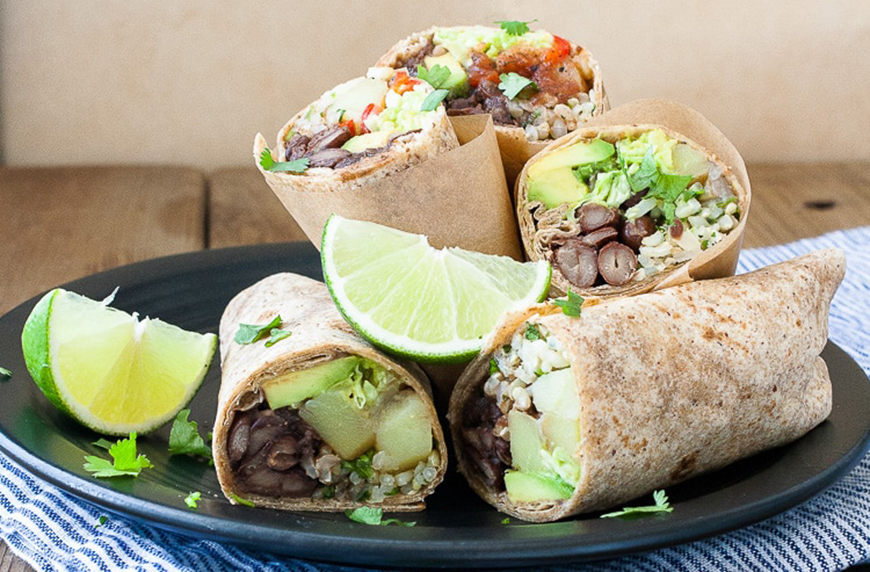 Breakfast burritos are typically stuffed with three things: eggs, meat, and cheese. But instead of that not-so-healthy combo, why not stuff it with a combination of rice, hash browns, black beans, and avocado instead?
Try It: Vegan Breakfast Burritos
8. Waffles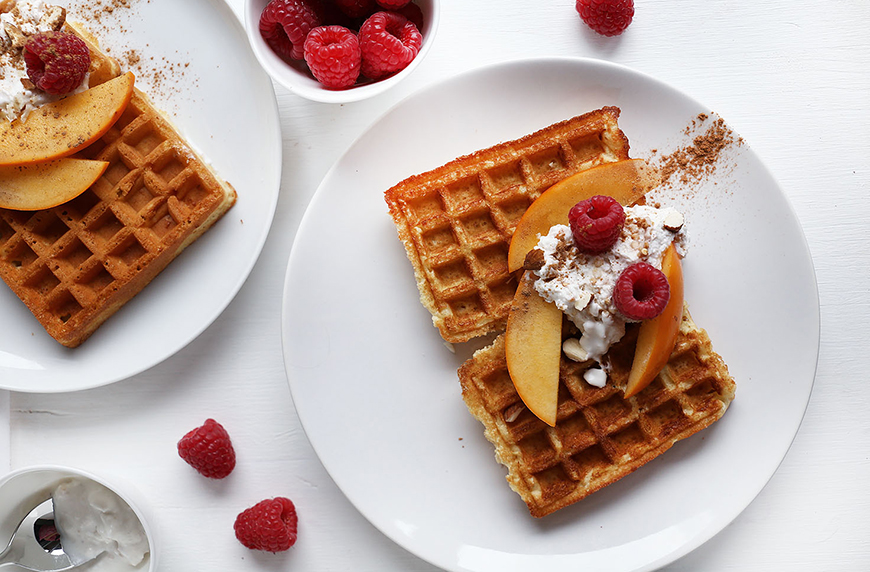 I could eat waffles all day, every day, and I'm pretty sure I'm not the only one. For the perfect dairy- and egg-free mix, make this gingerbread-flavored version using spelt flour and oat milk. And just FYI: For those days you're feeling lazy, there are many frozen waffles that are accidentally vegan, like these from Van's.
Try It: Fluffy Vegan Breakfast Waffles
9. Cinnamon Rolls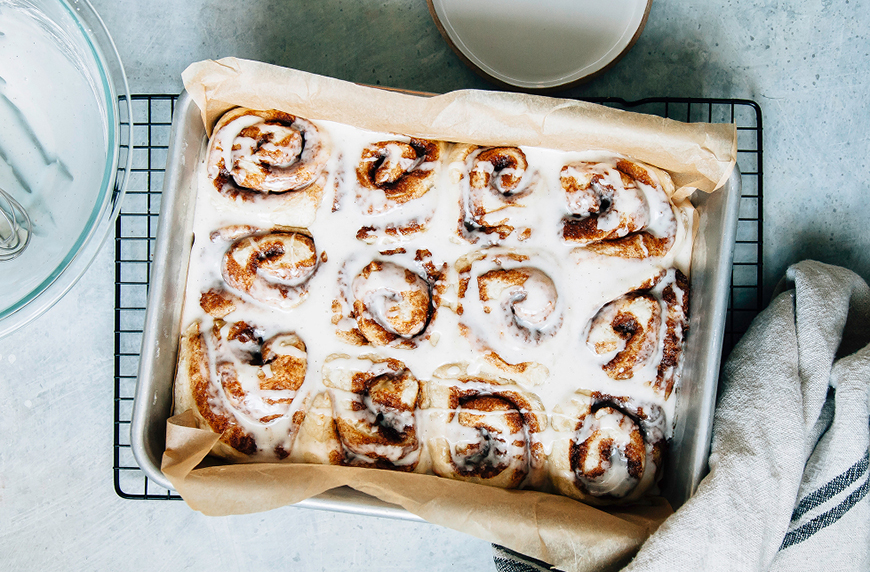 Cinnamon rolls have always been a huge tradition for me. Every holiday, I whip up a batch and savor every bite. While a typical recipe contains milk, eggs, and a whole lot of butter, the vegan version is just as yummy…and so much healthier.
Try It: Vegan No-Knead Cinnamon Rolls
10. Quiche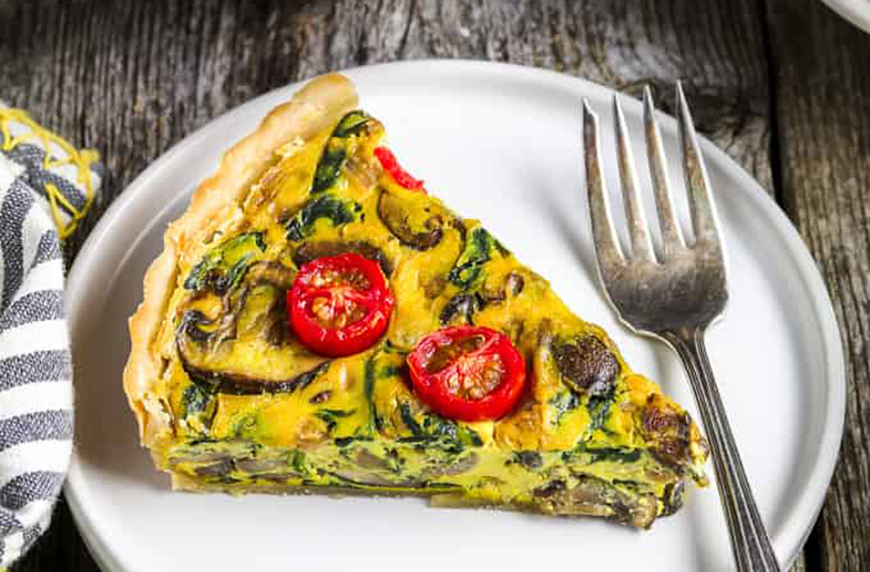 Like omelets, quiche is pretty much just made of eggs…and heavy cream, cheese, and meat. Luckily, tofu is the perfect replacement for the base: It's creamy, rich, and tastes weirdly similar to the original.
Try It: Easy Vegan Quiche
11. Breakfast Sausage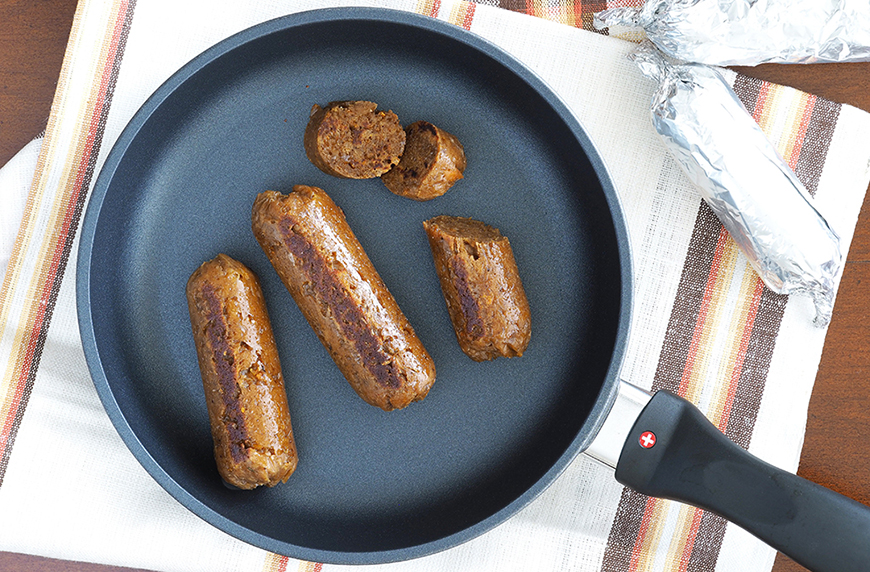 If you've been craving the taste of sausage with your breakfast, make it at home. These veggie links only require a handful of ingredients—including sweet potato purée, oat flour, and vital wheat gluten—and make for the perfect side dish for your breakfast.
Try It: Smoky Maple Breakfast Sausages
Other Vegan Breakfast Ideas
If you want more breakfast ideas, try these easy options you can whip together in no time:
Oatmeal with your favorite toppings
Smoothie bowl
Smoothies
Fresh pressed juice
Peanut butter toast
Avocado toast
Overnight oats
Energy balls
Sweet potato toast
Granola bar
Breakfast tacos
Crêpes
Bagels with vegan cream cheese
Breakfast hash
Updated from September 18, 2017 on May 14, 2019.