If you miss eating fish and chips, you probably know there aren't that many vegan alternatives available. You can always stock up on Gardein's Fishless Filets (which are spot on!), but there's also a surprising way to make your own right at home.
The biggest challenge of making vegan fish is replicating the flaky texture. Bianca Haun, the vegan food blogger and cookbook author behind Elephantastic Vegan, did just that using canned artichokes. No joke. "The flaky texture of artichokes is perfect to make vegan fish, and it's super easy to make," she wrote on her website. "These artichokes are battered, fried, and served with vegan tartar sauce. It tastes so similar to real fish."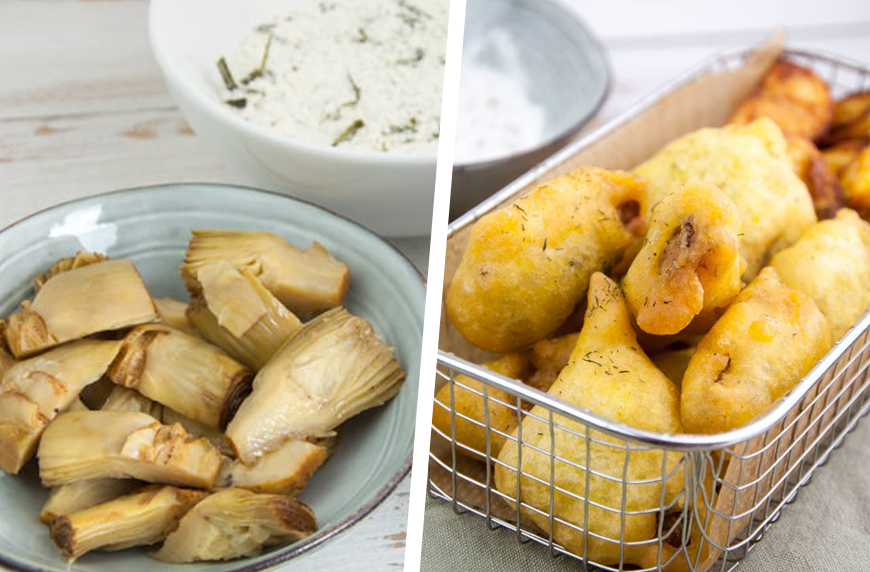 When Haun says making vegan fish is easy, she means it. Instead of buying fresh artichokes (and figuring out how to cut them…), you can keep things simple with the canned version. As for the rest of the ingredients, you'll only a handful to create the simple flour mixture and batter. After you coat your "fish," you simply fry them up until they're golden. Or, bake them in the oven for a healthier option.
To take your meal up a notch, you can even make Haun's vegan tartar sauce using ingredients like soy milk, apple cider vinegar, maple syrup, and pickles. After you dig in, it's so good and realistic that you'll forget everything on your plate is made from plants.
Visit Elephantastic Vegan to learn how to make vegan fish using artichokes.